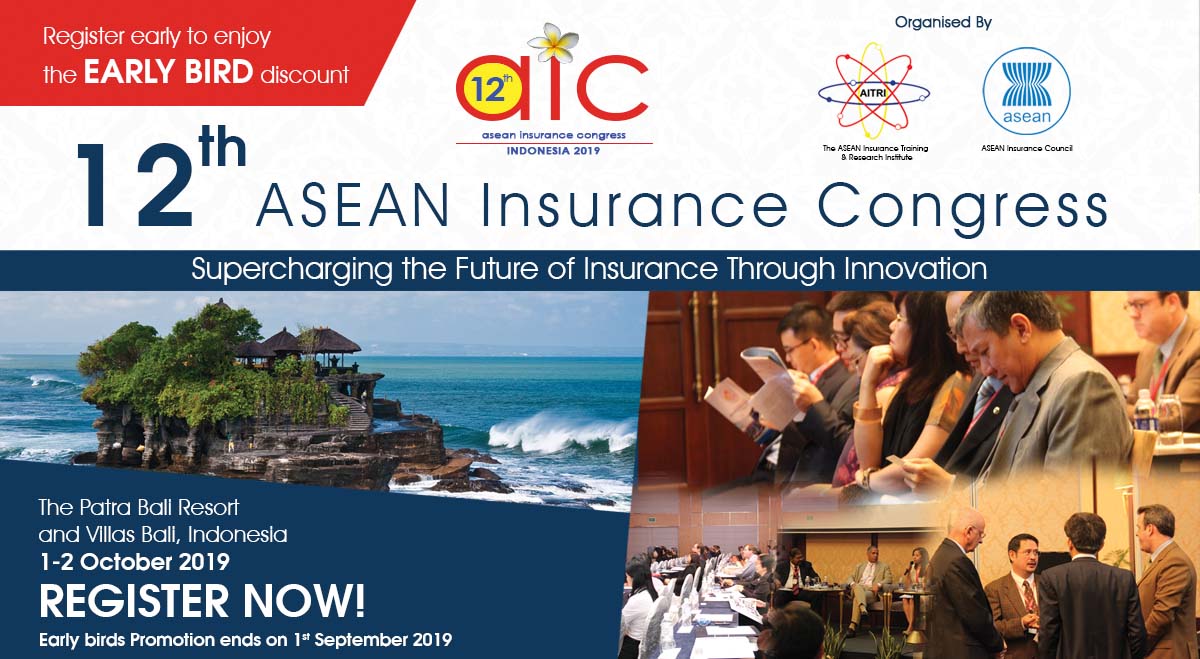 ASEAN Insurance Congress 2019
ASEAN Insurance Congress is an avenue for the young insurance leaders from all parts of ASEAN and neighboring countries to meet biennially. Current and relevant issues pertaining to the regional insurance industry are discussed from international and local perspectives. High level speakers are invited to share their knowledge, information and views with the delegates. During the social networking, delegates take the opportunity to meet key industry leaders who are the Heads of Regulators, Presidents of Association, Chief Executive Officers and Members of the Board. Delegates will also take the opportunity to establish new business networking with other members countries.
Mr. Dadang Sukresna
Chairman Insurance Council of Indonesia (DAI)
Dr. Julia Tijaja
Director ASEAN Integration Monitoring Directorate, ASEAN Secretariat (TBC)

Mr. Mark O'Dell
Chief Executive Officer Life Insurance Association of Malaysia
Mark O'Dell is the CEO of Life Insurance Association of Malaysia (LIAM) effective 2 January 2019. A permanent resident of Malaysia, Mark has over 39 years of experience in the life insurance business (including 25 years in Asia) with an excellent track record in spearheading the transformation of the life insurance industry. Mark holds both the Chartered Life Underwriter (CLU) and the Chartered Financial Consultant (ChFC) designations from the American College. He is also a Certified Financial Planner (CFP). In 2006, he was named the Personality of the Year by the Asia Insurance Review for his contribution to the industry and his leadership in the area of corporate social responsibility. In October 2018, Mark was honoured with the "Outstanding Leaders in Asia" award from ACES (Asia Corporate Excellence and Sustainability Awards). Mark was most recently the Group CEO for Manulife Holdings Bhd, retiring in October 2018. Previously he was the Senior Vice President, South East Asia of Manulife from November 2012 to January 2016, overseeing Singapore, Malaysia and Philippines during which the territories experienced strong growth. Mark has lead life operations for Manulife and AIA stemming from 1998 in Indonesia, Malaysia , Singapore and Taiwan. He was also appointed the President of the Life Insurance Association of Singapore and the Financial Planning Association of Singapore in 2007-2008.
Mr. Arthur Lee
Executive Vice President New Markets & Corporate Governance & SEA Chairman, FWD (TBC)
Mr. Hugh Terry
Founder and Editor The Digital Insurer

Mr. Raphael P. Young
Managing Director- Asia Pacific Region International Insurance Society
Mr. Raphael P. Young is the Managing Director – Asia Pacific Region for the International Insurance Society (IIS). He is based in its Singapore Regional Office is charged with being the principal IIS liaison with responsibilities to lead the IIS in growing its presence in the Asia Pacific. The IIS is a global forum for all insurance industry stakeholders, probing vital issues and utilising world-class research as a force to drive growth and innovation towards sustainable risk management. IIS vision is to shape the future of the global insurance industry as a contributor to the open dialog on the economic and social development of markets. Its members comprised of insurers, reinsures and risk management industry professionals as well as regulators, academics and policy makers who are involved in the life and non-life sectors. Prior to joining IIS, Mr. Young managed strategic consulting and implementation engagements in the Asia Pacific insurance industry for KPMG, Munich Re and SAP, for Life, Non-life and insurance services organizations. He is particularly well-versed in innovation and technology related issues so critical to the industry's future, including data analytics, artificial intelligence and machine learning, blockchain and other such transformational technologies. Mr. Young has already been associated with the IIS for more than five years, having served as an IIS Ambassador and as a speaker at the Global Insurance Forum conferences, and therefore already has a deep understanding of the IIS mission. He has over 25 years of insurance industry and management consulting experience in Asia having started his career as a graduate trainee with Royal Sun Alliance, one of the largest insurance companies in the United Kingdom He has held different roles in underwriting, distribution management and strategic planning with leading financial institutions. Mr. Young later became a management consultant to help insurance organisations undergo transformation programs in the Asia Pacific region before joining the IIS. He is passionate about the insurance industry development and has played an active role by regularly contributing though leadership papers, presentations and speaking engagements to various conferences and associations. He can be reached at ryoung@internationalinsurance.org

Mr. Shinichi Kishi
Chief Regulatory Expert (ex-Principal Administrator of IAIS) Meiji Yasuda Life Insurance Company
Shinichi Kishi is assigned as Chief Regulatory Expert at Meiji Yasuda Life Insurance Company and is responsible for international accounting and regulatory matters. Qualified as a U.S. Certified Public Accountant, he contributed his knowledge and experience to developing the International Financial Reporting Standard for insurance (IFRS 4) as a member of the Insurance Advisory Committee of the International Accounting Standards Board (IASB). Then, Shinichi worked for the International Association of Insurance Supervisors (IAIS) from 2006 to 2009. Among various responsibilities taken at Meiji Yasuda, Shinichi took an assignment on planning and promoting Meiji Yasuda's overseas business including M&A negotiation to acquire StanCorp Financial Group, a U.S. life insurer, as a project manager. In 2016 he assumed his current responsibilities on international accounting and regulations. He made presentations on relevant issues at many occasions including ASEAN Insurance Congress 2017 in Vientiane. At G20 related Insurance Forum Japan 2019, he coordinated a panel on responding to ageing. Shinichi holds a Bachelor of Science degree from Kyoto University in Japan, and an MBA degree from the International University of Japan. He participated in the International Management Program at New York University where he took advanced finance and accounting courses.

Mr. William Yap
CEO Elix Professionals Sdn Bhd
William Yap is the Founder of Artificial Intelligence Malaysia. He has over a decade of experience in Data Science and Analytics at various industry leaders. William has led high-impact Artificial Intelligence projects with other leading international Data Scientists and has helped drive Malaysia's National Big Data Analytics initiatives. He has also guided entrepreneurs, startups and established corporations on Digitalisation and Data Innovations.

Mr. Francois Metzler
Insurance Lead – ASEAN Accenture
François joined Accenture in 1993 and combines over 20 years of Life and P&C insurance business and IT skills to help organisations shape their transformational journey into a realistic and achievable execution strategy. He has managed the implementation of a number of programs across the globe for both P&C and Life organisations.
François has therefore extensive experience in shaping and delivering complex business and technology programs within the Insurance industry in Europe - France, Italy, Germany, Turkey, in the Americas - US, Canada, Brazil and Asia – ASEAN, Japan, China, Hong Kong, Korea.
François graduated from ESSEC business school in France and the Accenture Executive MBA at Kellog, Northwestern University.

Mr. Teguh Aria Djana
Chief Executive Officer PT. Asuransi Simas Insurtech
Mr. Paul Lynch
Regional Director Government Relations Prudential Corporation Asia

Mr. Sebastien Voon
Appointed Actuary TransAmerica Life Bermuda (Singapore)
Personal Background Sebastien Voon considers himself as embodying a true specimen of an ASEAN national. Born in Malaysia to a Malaysian father and a Bruneian mother, he spent his childhood and formative education in Brunei Darussalam. After undergoing an undergraduate program at university in the United Kingdom, Sebastien began his working career in Singapore where he has since been residing. Besides holding Malaysian nationality, he is currently also a Brunei and Singapore permanent resident. Sebastien is married to an Indonesian national, and together they have 2 young boys. His leisure pursuits include reading, history, gym workouts, outdoor running, hiking, socializing and travelling to exotic spots. Current Role • Sebastien is the Appointed Actuary of Transamerica Life Bermuda (Singapore Branch), based in Singapore. He has been with Transamerica since 2017. Education & Professional Designations • Bachelor of Science (First Class Honours degree), Cass Business School - City, University of London • Fellow, Institute and Faculty of Actuaries • Fellow, Singapore Actuarial Society • CFA Charterholder Working Experience Sebastien is a qualified actuary with more than 11 years of post-qualified experience, and more than 15 years of total working experience within the life insurance industry, having worked in a variety of actuarial, risk management and business development roles at global MNCs in 3 different countries (Singapore, Hong Kong and Indonesia) at both local business unit as well as regional office level, before joining Transamerica. His actuarial experience includes product pricing & development, valuation & financial reporting, business planning, capital management, asset-liability management, financial reinsurance and derivatives implementation, as well as corporate strategy and business development work. Sebastien has mainly been specializing in the area of high net worth life insurance business in the past 7 years, working mainly on universal life portfolios. Career Highlights • Setting up the business planning and IFRS reporting framework and processes for new China and Thailand business unit offices whilst working in a Hong Kong-based MNC's Regional Office. • In Indonesia, helping the development and launch of the country's first private medical insurance product, as well as contributing to the successful establishment of a telemarketing initiative for a bancassurer. • In Singapore, establishing the inaugural financial reinsurance and derivative structures for a global insurer to counter the threat of extreme market risk exposures. • Pioneered a Group-wide initiative to incorporate Economic Capital modelling within the pricing of new life insurance products. • Setting up a financial trust of pledged assets underpinning an existing coinsurance arrangement in order to mitigate solvency volatility. • Leading the implementation of Singapore Risk Based Capital (RBC)2, Financial Advisory Industry Review (FAIR) and Own Risk & Solvency (ORSA) for Transamerica. • Represented my companies to be a speaker at Broker partners' (channel distributors) events. • Obtaining my actuarial Fellowship and CFA Charterholder qualifications. • Being selected as one of the Finalists for the Young ASEAN Insurance Manager Award (YAMA) held in Vientiane, Laos in November 2017.

Mr. Chin Chean Tan
Associate Director Ernst & Young
Chin Chean is a Senior Manager at EY's Actuarial Services, based in Singapore. He has over 9 years of working experience in life insurance, primarily on valuation. Chin Chean has previously worked at US Life Insurer responsible for IFRS 17 global implementation and he also worked with multiple ASEAN insurers prior to his US experience.
Chin Chean is a Fellow of Society of Actuaries."
Mr. Nicholas Yeo
Founder & Actuary Nicholas Actuarial Solutions

Mr. Makoto Okubo
General Manager International Affairs, Nippon Life Insurance Co.
Insurance Company, based in New York and responsible for international regulatory and accounting matters. Among other global activities, he is currently serving as the Sherpa of the Asia Pacific Financial Forum (APFF) Insurance and Retirement Income Work Stream, promoting insurers and pension funds' roles to support sustainable, resilient and inclusive growth and development in the Asia-Pacific region. He is actively promoting SDGs in collaboration with United Nations, OECD, and APEC. He is also known as multi-talented entertainer such as singer, dancer and comedian, and has recently launched Music for SDGs Project to provide   opportunities for general public to deepen understanding of SDGs through music events in collaboration with the Japanese government and United Nations, aiming to support G20 Japan 2019, TICAD, Tokyo Olympic and Paralympic 2020, and Osaka Expo 2025. Formerly, he was employed by the Bank for International Settlements (BIS) and served as a member of the IAIS Secretariat, sponsored by FSA Japan, responsible for standards implementation, including technical assistance and training of insurance supervisors over 150 countries. Prior to the BIS, he also spent 5 years in New York as a lead researcher at NLI Research Institute on insurance, banking, securities, and pension sectors in the US and Canada. His personal websites, Mackglobe.com and Insurance-Finance.Com, research portal sites are used by industry professionals, regulators and researchers in over 90 countries. He holds a bachelor of law from Kyoto University, and MBA/MS Finance from HEC School of Management, France. He speaks Japanese, English, French, Spanish and some German.

Mr. Roshan Collas
Asst. General Manager Bancassurance & Alternate Distribution Sri Lanka Insurance Corporation Ltd.
Roshan Collas is presently working at the capacity of an Assistant General Manager (EXCO Member) of Sri Lanka Insurance Corporation Ltd, the largest composite insurer with a premium income of over LKR 30Bn in 2017. At Sri Lanka Insurance, he is presently responsible for Bancassurance and Alternate Distribution for both Life and General Insurance categories and also has being responsible for supervising and directing the entire branch network consisting 131 branches & 18 Customer Service Centers in line with companies' top line objectives for Life Insurance category for 03 year period (Year 2015,2016 & 2017) prior to his present assignment. Presently he is counting to 15 years and 13 years of management and senior management level of experiences respectively. In addition to his assignment at Sri Lanka Insurance, he also has led the Bancassurance operation at Bank of Ceylon as its 1st Head of Bancassurance from Feb. 2011 to Jul. 2015. Further, he also has accumulated experience as a banker at Hatton National Bank and also in the Pharmaceutical industry for last 20 years of his experience. He holds a Master Degree in Business Administration from Asia e University of Malaysia, Diploma in Marketing from Sri Lanka Institute of Marketing, and also a member of the Institute of Certified Management Accountants in Australia (CMA – Aus). He is a Fellow Member of the Institute of Certified Professional Managers (ICPM) and member of their Training and Education Committee which drives various projects for the development of Professional Managers. Roshan is a member of Sri Lanka Institute of Marketing (SLIM) and Institute of Management of Sri Lanka (IMSL) and he is a lecture at Asian International Academy for their programs on Marketing Credit Instruments and visiting lecturer for EDPM at IHRA, University of Colombo. He also have conducted corporate trainings for organizations such as Abans, Ceylon Biscuits, Sri Lanka Telecom, Sadaharitha Group, HNB Grameen, Debug, Ruhunu Foods, Ministry of Finance on the areas of 'Sales Success' and Front Line Management' in addition to his public programs on same areas in Colombo.
Ms. Yvonne Tay
Senior Marketing Manager SCOR Global Life, SEA

Mr. Charchit Agrawal
Appointed Actuary QBE Malaysia
Charchit Agrawal is a qualified general insurance reserving and capital actuary, with over ten years of experience spanning across UK, India and now Malaysia. During these ten years, he has worked both in actuarial consultancies and insurance companies. He qualified in 2011 while with Ernst & Young, London and has also worked with Aon and EMB (now Willis Towers Watson) – mostly in reserving and capital roles.
Before joining QBE Malaysia as their Appointed Actuary in June last year, he spent three and a half years with XL Catlin (now Axa XL) in their London and India offices, where he was responsible for overseeing the transition of Catlin's reserving process over to XL after XL's acquisition of Catlin in 2015.
Apart from this, Charchit has had a long association with the Institute and Faculty of Actuaries, UK as an Examiner, along with volunteering in many other capacities. He has also been involved with the development of the Certified Actuarial Analyst course during its launch phase. He is an education enthusiast and has been involved with teaching and mentoring students throughout his career.

Ms. Shayne Rose Bulos
Senior Advisor GIZ Regulatory Framework Promotion of Pre-poor Insurance Markets in Asia (RFPI Asia)
Devoted to financial inclusion through the use of technology & public-private partnerships, I serve as a Senior Advisor for Insurtech at the German Development Cooperation in Indonesia, Mongolia, Pakistan, Philippines, Nepal, Sri Lanka, & Vietnam. I also serve as a Consultant on Policies and Regulations, Strategic Planning, Branding & Marketing, and Digital Transformation for Cooperatives and Start-ups. Prior to that, I used to head the Microinsurance Division of the Philippine Insurance Commission. As an active Toastmasters International officer, I served as Area Director, President, VP-Education, and VP-Public Relations. I also served as a Regional Advisor for the Junior Philippine Institute of Accountants for two (2) years, bagging the Most Outstanding Regional Adviser in 2016. As a CPA with an MBA, I was given opportunities to be an Academician at the University of Makati and Asia Pacific College. I authored and self-published a poetry book, financial inclusion manuals, and case studies on The Philippine Approach to Inclusive Insurance Market Development (2016 and 2019).
Mr. Yeo Puay Lim
Regional Manager, Asia BIMA
Mr. Ivan Alias
Vice President Sales & Marketing, Merchantrade Money & Insure, Merchantrade Asia
Ivan spearheaded the launch of Merchantrade Insure (MI), an insurance division under Merchantrade Asia Group. The first product, MI- Basic was launched in May 2018 providing basic financial protection for migrant workers in Malaysia to help promote financial Inclusion. Merchantrade Insure is the first in Malaysia allowing migrants to purchase insurance on their own accord and claims are paid through direct remittance to their beneficiary. As a result of this revolutionary product, MI Basic won the New Insurance Product of the Year - Malaysia at the recent Asian Banking and Finance Insurance Asia Awards 2019. Ivan graduated in 2012 from the University of Wisconsin-Eau Claire with a Bachelor's degree in Actuarial Science.

Mr. Jakub Nugraha
Division Head of Microinsurance & Agriculture Insurance PT. Asuransi Central Asia
Mr. Hassan Scott Odierno
Partner Actuarial Partners Consulting
Hassan Scott Odierno has been a partner with Actuarial Partners Consulting in Malaysia and involved in Takaful since 1996. His specialities are in life and Takaful consulting. He is the appointed actuary for both Takaful Operators as well as conventional insurers, extending from Malaysia to Mauritius and Kenya to Hong Kong. He has been involved in assisting companies set up Takaful operations from feasibility studies to product and model development and business projections in countries such as Malaysia, Indonesia, Saudi Arabia and Bahrain for both local companies as well as multinationals. He has also been involved in merger & acquisition exercises for insurers in countries such as Malaysia, Taiwan, Thailand, Singapore and Bahrain. He is a co-author of the World Bank book Takaful and Mutual insurance, co-author of the book Essential Guide to Takaful and a contributing author to the book Health Insurance in Asia and frequently writes articles and gives presentations on Takaful. He is also the external advisor to two universities in Malaysia to their risk management and actuarial science programs. Hassan is a Fellow of the Society of Actuaries, and has a Bachelor of Science degree with high distinction in Mathematics from Worcester Polytechnic Institute in the USA.
Platinum Sponsor
Bronze Sponsorship

Media Partners