YAMA 2021
Nominations are now closed!

YAMA Nominations for 2021 are now officially closed.
Thank you for your interest in the YAMA Award. Please stay tuned here on 24 September 2021 for news about this year's YAMA finalists!
ABOUT YAMA
The Young ASEAN Insurance Manager Award (YAMA) is a project initiated by the ASEAN Insurance Council (AIC) and organised by The ASEAN Insurance Training and Research Institute (AITRI) to encourage young managers within the ASEAN insurance industry to actively contribute and excel in their field of work.
This prestigious award was inspired under the spirit of ASEAN to honour outstanding young managers for their achievement, contribution and dedication to the insurance industry and to recognize their potential, talent and leadership qualities.


YAMA AWARD OBJECTIVES

The objectives of the award are to:
recognize outstanding young managers for their achievements, contributions and dedication towards the insurance industry;
recognize the potential of young talents in the industry as future leaders of the ASEAN insurance economies.
be a role model for the future generation of insurance professionals joining the industry
inspire dynamic individuals to step forward to lead to be a catalyst of growth and development of the region's insurance industry and economy at large.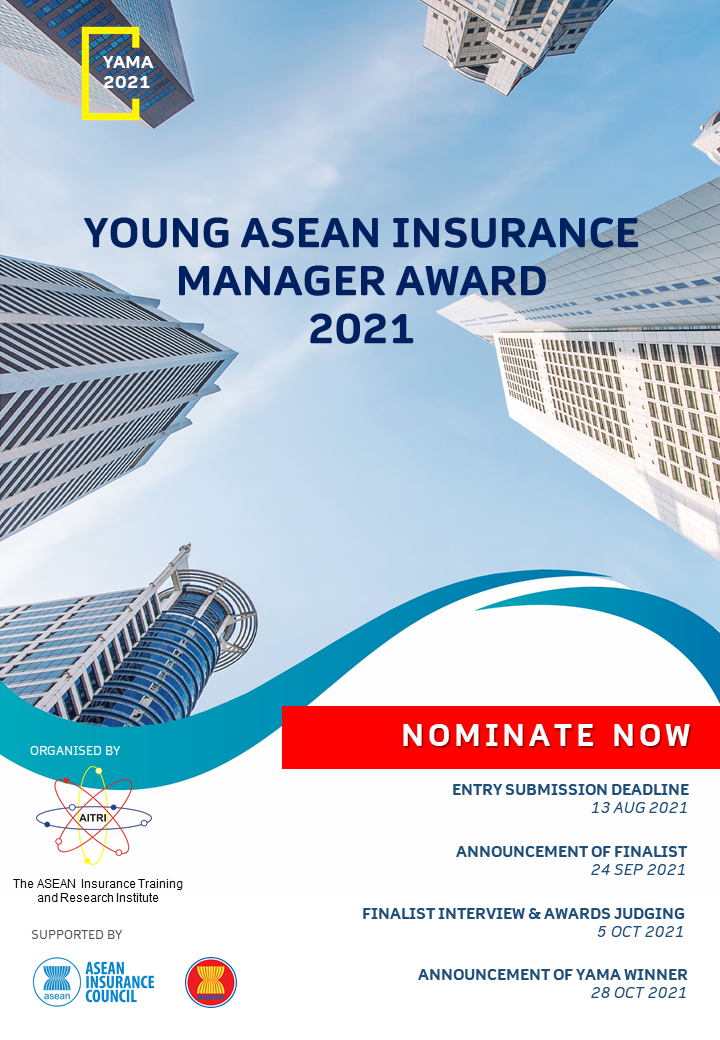 NOMINATION CRITERIA
YAMA 2021 is open to all managers working in the insurance industry within the ASEAN Region.
The Nominee must be:
40 years old and below

an ASEAN national.

a minimum of five (5) years working experience in the insurance industry.

competent and has shown outstanding leadership within the company and the industry.

innovative and creative in managing people and the business.

successful in undertaking difficult management or business challenges.

successful in promoting a positive image of the industry.
THE JUDGES
The judges for this award comprises of leaders in the ASEAN insurance industry. All entries will be evaluated by the panel judges. Three finalists will be shortlisted and announced on YAMA microsite. The finalist will be invited to attend a selection interview with all the judging panel.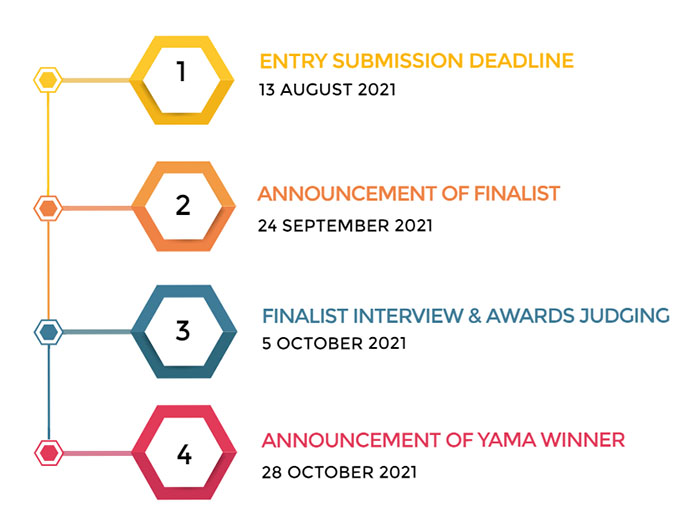 SUBMISSION GUIDELINES
Important
All entries must be written in English.

Answer all seven (7) questions not more than 1500 words.

Closing date for YAMA 2021 is on 13th August 2021.

Entries may include additional supporting document such as certificates of achievements.

All entries will be treated as confidential, however, the Organizer reserves the right to publish positive extracts from winning entries.

The decision of the judging panel is final.